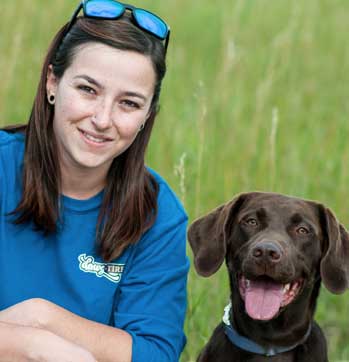 Brenna, Coach & Walker
Hi there! My name is Brenna Johnston. I joined the Dawg Tired Team in spring 2014. I was drawn to Dawg Tired by the feeling of community that welcomed me the instant that I met Kim! I have been working with dogs for several years now professionally, but I first realized my love for helping our canine companions to be the best they can be with my first dog, Mowgli the Chow Chow. Mowgli was a very stubborn kind of guy, and I was just as determined as he was to help him be the best he could be.
Knowing that Dawg Tired does off leash walks was a draw for me. I grew up in Kananaskis country, and living in the city leaves something to be desired for having time in the wilderness to explore. So what better way to fill that than by exploring with a pack every day?! I love spending my days with dogs. Forming a bond with each dog in my pack is such a great feeling, and being able to relate the wonderful stories and accomplishments they achieve with their owners is an even greater feeling.