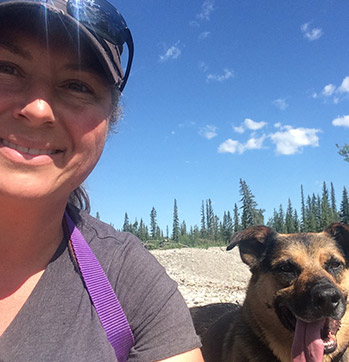 Kim O'Mahony, Owner
My true passion is facilitating canine education and supporting every single one of our clients on how to help their dog be successful on their own terms. The beauty of our balanced packs provides an environment that gives me access to help each dog find their individual success. That may be walking off-leash without barking, or interacting with the pack in a socially acceptable way. After each walk, I can't wait to take what I've learned from each dog and share it with their owner. Empowering our clients with knowledge and the specific skills about their dog to continue making positive changes in their lives together is extremely rewarding.
The best part of my day comes from knowing I've given the dogs in my care best experience possible. I simply can't imagine NOT walking everyday!
The challenges of working with our AARCS foster dogs who may be feral, shy, shut-down or in need of severe rehabilitation has given me the confidence and experience to take on any challenge.
As co-founder/owner of Dawg Tired, we are 100% committed to building a business with a positive reputation and integrity, while honouring our clients in all our decisions.